Your Last Will and Testament – Will and Your Intent
Auckland Lawyers
5 November 2010
Will and Your Intent
by Ian Mellett of Quay Law Solicitors
In this legal article, Auckland lawyer Ian Mellett of Law Firm, Quay Law discusses the importance of regularly reviewing and updating your Will and last wills and testament, which is a very important document that formally sets out how your assets are to be dealt with upon your death. A recent media article has highlighted this aspect as follows:
Will and your intent – Your last will and testament
Don Wilkinson, a police officer tragically slain in September 2008, executed a Will with the Public Trust in 1985, when he was 23 years old. At that stage his assets comprised two guitars and a second-hand car.
It appears that Don Wilkinson was a frugal individual who had remained unmarried and childless and by the time he was killed, his estate had grown to $2 million.
His Will effectively bequeathed "the whole of my estate both real and personal" to Ron Wilkinson. Ron was Don's adoptive father and the wording contained in the Will has resulted in Ron being the sole beneficiary of the Will leaving Don's mother, Bev Lawrie, without a penny. His parents have been separated since 1983.
According to the media, Ms Lawrie and other family members and friends say Don Wilkinson and his mother were very close, and he would not have wanted her left with nothing.
As Don was killed two years ago his mother is now unable to contest the Will under the Family Protection Act, as potential claimants have 12 months after a Will is probated to bring a claim.
Reviewing your Will
It is good practice to review your Will on a regular basis. Life takes its course and situations change. We have compiled a list indicating some of the situations that could prompt you to alter your Will:
The birth of a child
The adoption of a child
The commencing of a relationship
The ending of a relationship
The death of a family member, executor or beneficiary
The changing value in any of your assets
The receiving of a large inheritance
Moving countries, or
The purchase of a home or business.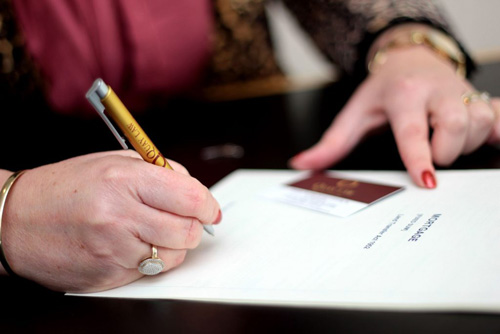 There are certain events that will automatically change your present Last Will and Testament. Under these circumstances, a revision or renewal of your Will should necessarily be conducted. These events include
Getting married
Getting divorced and
The birth of a child or adoption of children.
Dying intestate
We are often asked what happens if a person dies without a Will. If this situation occurs you are said to have died intestate. The administration of your estate is then governed by the provisions of the Administration Act 1969 which sets out a statutory regime to be strictly followed. Your wishes are unfortunately not relevant.
What else should you consider in your Last Will and Testament?
We also recommend that you regularly review your entire estate planning structure. People are inclined to view estate planning in terms of investments, property, finances and assets. Yes, it is all of these things but the focus of proper estate planning should be the individuals who will benefit from your efforts and legacy. This may initially be yourself and your partner but will obviously need to include your children and possibly other loved ones after your death. Failure to have an appropriate estate planning structure in place can have disastrous consequences for all concerned.
We at Auckland law firm, Quay Law recommend that you seek professional legal advice with regard to both your Will and any related estate planning aspects. Your NZ lawyer can provide you with the requisite advice and guidance to ensure that your affairs are in order and that your wishes can effectively be implemented once you have passed away. This will give you the certainty and peace of mind that your loved ones are looked after in the manner you intended.
Please feel free to contact Ian Mellett (BComm LLB H Dip Tax) at Auckland law firm Quay Law for more information, or if you have any questions regarding your last will and testament , will or estate planning needs visit our law firm website www.quaylaw.co.nz for more information.
(As published in The South African — October/November 2010) Download the PDF
To talk to a conveyancing solicitor about your property transaction please contact  a lawyer at Quay Law.
Recent News
Our legal tips are provided by the Auckland lawyers and conveyancing specialists at Quay Law (New Zealand). These articles cover a range of legal topics and news worthy articles.
The importance of updating your will
If you should die, having a valid will, also known as a "last will and testament", is the only way to ensure that your assets and possessions are distributed to the people that you want them to go to, and in the way that you want them to be distributed to those people. However, the key word here is having a valid will. That's because a legal will or parts of a will can be deemed to be invalid. Did you know that? Not many people do. So if you have a will (and making a legal will is something that everyone over the age of 18 should do) then you should definitely review it with your wills and trusts lawyer to ensure it's still a valid will.
Legal requirements to update your will
Before 1 November 2007, when the Wills Act 2007 came into effect, documents that were intended to be a legal will but that failed to meet certain formal requirements, were deemed to be invalid as a will, often resulting in much-added heartaches, such as an intended beneficiary being deprived of an inheritance.
A valid will had to be in writing, properly signed and be properly witnessed by two witnesses. Some of the things that can make a last will and testament, or parts of it, invalid, are things such as the following:
• If the will was made before the will-maker got married or entered into a civil union, or ended their marriage by court order.
• If it can be shown that the maker of the will was in any way subject to undue pressure or influence to dispose of their property in a certain way.
• If the will-maker was not of sound mind or was under-age when they made the will.
• If the will-maker made handwritten changes to an existing valid but neglected to sign or initial the changes and have them properly witnessed.
• If a will was drafted by a lawyer but the will-maker died before they could sign the will.
The Wills Act of 2007 and its impact
Prior to 1 November 2007, documents that were intended to be a legal will but which failed to meet the various formal requirements of a valid will were deemed to be invalid.
However, the Wills Act 2007 has made some important changes by allowing a Court of Law, in certain cases, to validate documents that record the testamentary intentions of the deceased as a valid will.
The focus of these changes was to ensure that a will-maker who set out to express their genuine last will and testament, should not have those wishes frustrated merely by various legal technicalities. Now the Courts can validate certain documents, otherwise deemed as invalid previously, as valid wills. However, this does involve an application to the High Court under Section 14 of the Wills Act 2007 and still needs certain requirements to be met.
Rather than have to go through a legal rigmarole involving the Counts, we recommend instead that you review your last will and testament every few years with your wills and trusts lawyer, just to be sure your will is still a valid will. Validating a will with the help of a lawyer should also be done when your circumstances change, for example, you get married or enter into a civil union or de facto relationship, or when relationships break up.
Helping you validate your will
It's important to make sure you constantly stay on top of your estate planning by ensuring that your will and power of attorney are updated regularly.
For expert advice as to whether your current will is still a valid will, or if you need to update or amend your will, simply call 09 523 2408 to speak with your Auckland lawyer at Quay Law. We'll also provide you with a quote of the cost for amending your will, as there's no fixed price for updating a will because each person's circumstances are unique.
Contact Your Conveyancing Lawyer in Auckland
---
We are lawyers in Auckland, who provide practical legal services and conveyancing to a diverse range of New Zealand and overseas client needs. Centrally located in Remuera, Auckland, we look forward to working with you.
Our Legal Services
Our Auckland lawyers provide practical legal services for a diverse range of client needs.
CONVEYANCING (RESIDENTIAL AND COMMERCIAL)
Our property lawyers understand that property refinancing and property transfer or conveyancing transactions are diverse and can range from the sale or purchase of a residential house or apartment to something more complex. Transactions may focus on any property market be it retail, office, industrial, retirement villages, residential or rural.
Call us now for our conveyancing
REFINANCE, DEBT RESTRUCTURING OR CONSOLIDATION
Loan Refinancing may refer to the replacement of an existing debt obligation with a debt obligation under different terms.
If the replacement of debt occurs under financial distress, refinancing might be referred to as debt restructuring or debt consolidation.
Call us now for our Refinance
WILLS AND ESTATE ADMINISTRATION
Everyone over the age of 18 years should have a will.  This will ensure that your assets will be bequeathed to those persons or entities whom you wish to benefit from your estate. We are able to manage the administration of your assets on death and provide advice to estate executors on any legalities that may arise.
We also provide the following ancillary services
Enduring Powers of Attorney
Powers of Attorney and Deed of Delegation
Matrimonial and De Facto Claims against your estate
Call us now for wills and estate administration
ESTATE PLANNING, TRUSTS AND ASSET PROTECTION
We specialize in the establishment of the Trust and thereafter are able to support the ongoing management of your Trust along with your Trustees.  It is essential that your most important assets are protected during your lifetime and on your death.
 Please contact us for family trusts
TAXATION
Types of taxation related services include but are not limited to
Investment Properties
Income structuring
Income Splitting for Family
Pre immigration planning.
Please contact us for Tax Lawyers
RELATIONSHIP PROPERTY
The drafting of a relationship property agreement requires skill, diplomacy and a good understanding of your requirements to ensure that the desired outcomes are achieved should a separation occur. We are able to assist with setting up Relationship Property Agreements and Separation Agreements.
COMMERCIAL | BUSINESS LAW
Types of products and services we provide:
Leasing
Business Sales and Purchases
Business Refinancing
Company Formation
General Security Agreements
Debt Collection
Partnerships
Shareholders Agreements
Small Business Advice
Business and Marketing Plans
Strategic and Marketing Advice
Guarantees
Terms of trade
Financing
Franchising
Joint Ventures
Consumer protection
Please contact us for Commercial lawyers
FRANCHISING
Whether you are a franchisee or franchiser, large and small, we are able to assist you in setting up franchises, entering/buying a franchise, writing and reviewing franchise documentation and expanding franchises, in a personalised, professional and efficient manner.
Please contact us for Franchise agreements
IMMIGRATION
Our lawyers in Auckland can assist you with:
Providing general immigration advice.
Attending to you visitor, work or residency visa / permit applications.
Please contact us for NZ Immigration
 We can help you with:Rules of the Body Corporate
Management of the Common Property
Establishment of the Board of Trustees (the committee)
Regulations governing the Board of Trustees
Provide insight and objective advice on Body Corporate matters
SOCIAL MEDIA LAW
Social media includes web-based and mobile technologies used to turn communication into interactive dialogue. Social media is media for social interaction as a super-set beyond social communication. Enabled by ubiquitously accessible and scalable communication techniques, social media has substantially changed the way organizations, communities, and individuals communicate. This has in turn had an impact on the law.
Please contact us at Quey Law Remeuera for  Social Media Law
CONVEYANCING, FAMILY TRUSTS AND GENERAL ADVICE
Our lawyers based in Remuera are also able to provide advice on general New Zealand legal matters.
If you require expertise beyond our practice, we are able to arrange this necessary expertise for you.
Referrals to Barristers are also provided.
Our Auckland solicitors also practice in Social Media Law.
For more information, please contact a lawyer at Quay Law Barrister and Solicitors.
Please contact us for General legal requirements
"If you don't build your dream, someone will hire you to help build theirs"
– Tony Gaskins