Wills and Estate Administration
Our lawyers and Estate Administration team will assist you in a compassionate and professional way to carefully manage the estate of a deceased relative or friend.
Auckland Lawyers
Wills
They say that the one thing that is certain in life is death. Unfortunately, this is a prospect we will all have to consider. Imagine the stress on a family when one of its members has passed away without a will or "intestate". If this happens it could often mean long, drawn out Court processes and added unnecessary stress at a time when loved ones are dealing with their grief.
Everyone over the age of 18 years should have a will. This will ensure that your assets will be bequeathed to those persons or entities whom you wish to benefit from your estate.
The friendly legal team at Auckland law firm, Quay Law can assist you with implementing the structures that you require in the event of your death.
Estate Administration
A time of sadness can be made even more traumatic for those parties remaining if proper provision for the administration of an estate has not been made. This is a time when the lawyers at Quay Law apply their pragmatic and practical yet sensitive approach to ensure that all matters are completed in a timely fashion. We are able to manage the administration of your assets on death and provide advice to estate executors on any legalities that may arise.
Auckland lawyer, Ian Mellett of Quay Law is able to advise on all types of direct and indirect taxation.  His focus is always on ensuring that you receive the best legal and commercial advice taking into consideration all the tax implications of the various options laid before you.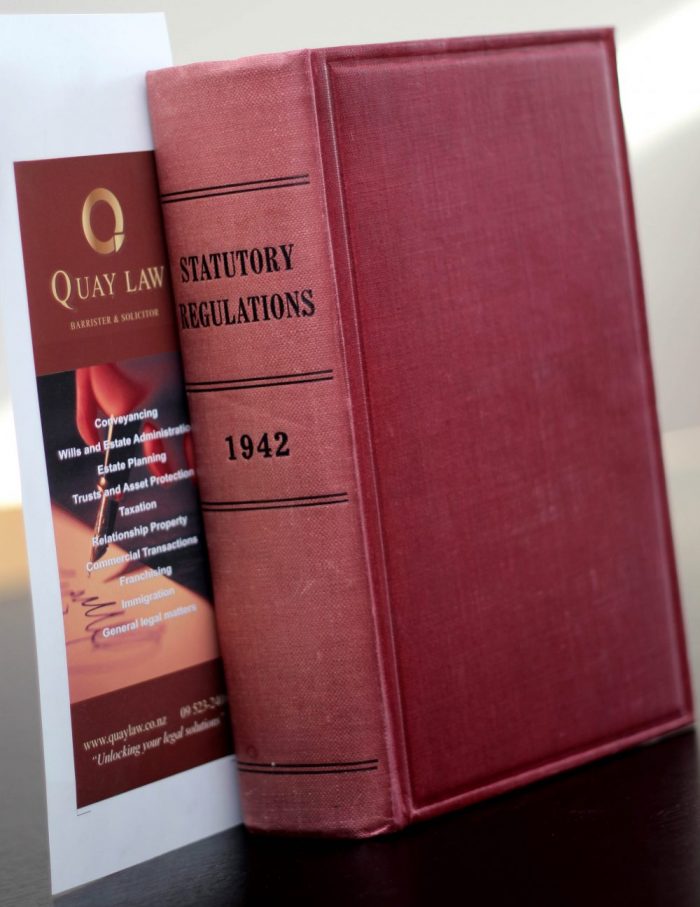 Other Ancillary Wills and Estate Administration Services
We also provide the following ancillary services
Enduring Powers of Attorney
Powers of Attorney and Deed of Delegation
Matrimonial and De Facto Claims against your estate
Disputed Deceased Estates or a Disputed Will
Common causes of problems/disputes over wills are:
A family member or members believe the will is clearly unfairwrongly favouring some beneficiaries over others; (Family Protection Act 1955)
Persons who have been promised a benefit in an estate have been left out; ( Law Reform (Testamentary Promises) Act 1949.)
There is no will at all; (Administration Act 1969)
Some family members dispute that the will is valid at all maybe for example that the deceased had no mental capacity at the time they signed the will;
A spouse may have a claim under the relationship property act because they believe they have not got half of the deceased's property; Property (Relationships') Act 1979)
Recent News
Our legal tips are provided by the Auckland lawyers and conveyancing specialists at Quay Law (New Zealand). These articles cover a range of legal topics and news worthy articles.
Immigration Consultants and Lawyers for Immigration in 2018 Whether you are already residing in New Zealand or are planning a move to New Zealand, you should be aware of the benefits and risks surrounding your application or current permits. Consider working with immigration consultants and lawyers? Losing your New Zealand job may result in you not being eligible to work ....
We are lawyers in Auckland, who provide practical legal services and conveyancing to a diverse range of New Zealand and overseas client needs. Centrally located in Remuera, Auckland, we look forward to working with you.
"Justice cannot be for one side alone, but must be for both "
-Eleanor Roosevelt